Father's Day is just around the corner and it's time to celebrate one of the best guys around – but what do you get the guy who already has everything he could possibly want? Luckily for you, the shops of Webster County are stocked with items dad will love! Here are just a few options around Webster County: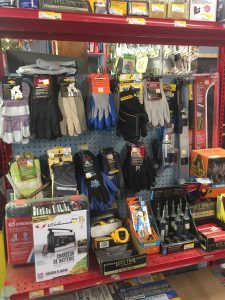 For the Mr. Fix it in your life, look no further than Casey's Hometown Hardware. They have everything a guy could ever want from bird seed to tools to building supplies – you'll find the perfect gift. Anna Casey, owner of Casey's, says most come in for a gift card for dad because after all, he knows best!
You can't go wrong with anything in the Addison Visitor Center, but for the dad who loves to represent West Virginia and especially Webster County – this is the shop for you. They have t-shirts, hats, travel mugs and much more covered with the tasteful designs of local artist Marli Jean Designs showcasing the beauty and pride of West Virginia.
Spillman's Mountain Farm Products:
If you were raised by the self-proclaimed "grill master," this is your spot for the perfect Father's Day gift. Treat dad to what he really wants this year – food! Selling only fresh and local meat is Spillman's specialty and every cut is to die for! With several different cuts of steak, fresh lamb, bacon, beef and so much more there's no way you will leave empty handed and dad empty-bellied.
Another great spot for the outdoorsman dad is Trapper Den's. They are equipped with a full line of hunting and fishing clothing and supplies along with camping equipment and boating accessories! A perfect spot to shop if you plan to hit the lake for Father's Day!
Minnich's Florist and Gift Shop:
Get dad ready for football season this fall and stop by Minnich's. They are stocked with anything and everything for the WVU super fan dad! With jerseys and tumblers, you will find something dad will have to rock at the tailgate!
For the man who loves the great outdoors, you can't go wrong at Pap's Sport Shop. Donnie Shaffer, son of owner John "Pap" Shaffer, recommends Lou's Flies for dad's who love to fish. Made locally out of Fairmont, WV, kids can choose from the wide selection of these handmade flies and spinners for dad and the best part is they're just $2!
As you're headed to spend Father's Day at Holly River State Park, take a pit stop at Holly River Grocery to get dad his last-minute gift! From four-wheeler tires to fishing supplies to local souvenirs and everything in between – dad is sure to find something he loves!
Webster County has a little something for dad everywhere you look! Come find everything on your list before it's too late!